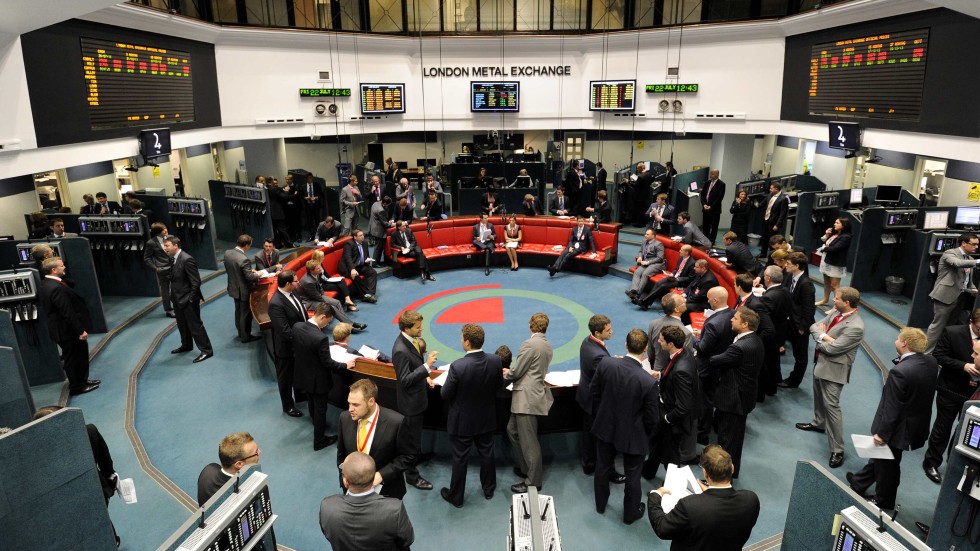 I have been an investor in Equities since the age of about 15, I was a much later punter than the infamous Rees-Mogg; although, like Rees-Mogg, I bought my first shares whilst still at school (any similarity ends there!).
On leaving school I worked on the London Stock Exchange as a 'Blue Button'; a sort of trainee, dogsbody, stockbroker. Share trading was an everyday part of my early working life.
Much later on, back in the early 1980's, I became interested in the London Commodity Exchanges, and joined a small Wheat/Barley trading syndicate. Eventually my interest became concentrated on the trading of Coffee futures (above is the London Metal Exchange; I couldn't find a picture of the 'soft' Exchanges).
I visited a well known Commodity brokerage; established an account, and continued with my 'theoretical trading' at home for another year or so, before making my initial trade. I studied charts, and followed prices on the very basic Ceefax TV service. I learned as much as I possibly could, being away from London.
Commodity futures trading is much like Equity trading in that prices go up as well as down; but opposed to Equity trading, one only places a 10% margin on any Commodity trade, making one's profits or losses multiplied by 10.
This type of trading is not to be recommended for people of a nervous disposition or a weak heart. It is extremely stressful, and full of serious financial pitfalls. Many a bankrupt has lost everything through his/her Commodity trading.
As it happened all went well, and as a result I instantly decided to quit whilst ahead. I walked away a happy man, and have never returned. It was simply far too risky for someone with my limited amount of available assets. My aim had been fulfilled, and that was that.
Trading both Equities and Commodities can be great fun, and occasionally profitable; but take my advice..... stick to the Equities.